Awarded a prestigious gold medal from the Mom's Choice AwardsⓇ.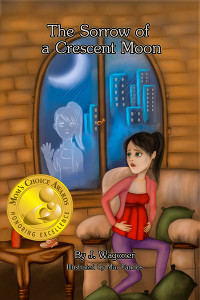 Jamie, an exceptionally bright and inquisitive eight year old, is given the opportunity to see New Orleans in a way that few will ever see it. Upon accepting the gift, he finds that he is able to interact with the "shadows" of the city, the essences of people hidden away from the rest of the world. As a result, Jamie learns difficult, yet important, lessons about the emotional pain, regret, and fear with which some must live.
The Sorrow of a Crescent Moon is now available for your Kindle for only US$0.99, as a paperback from Amazon.com, or as an eBook from Google Play. If you are an awesome person and would prefer to support your local independent bookstore, you can see if they participate with IndieBound by clicking here.
If you are a book buyer for a retail location, you can purchase copies of the book as a CreateSpace Direct Reseller.
---
Some Reviews (click on the links for the full reviews):
"The Sorrow of a Crescent Moon is a book that, even though it is billed as a children's book, works for all ages. It covers some heavy topics (like depression, homelessness, death, etc.) but it does it in a way that is gentle enough for children. It also helps adults remember to be understanding, compassionate, and hopeful." — Red City Review
"J. Wagoner does a masterful job of keeping the tone light enough for children without pandering or watering down the message. Like any good fable, the story is accessible to all ages but filled with profound morality." — Pacific Book Review
"This book is both light and deep, a heavy tome that somehow conveys more moral lessons in its brief pages that any fable you can conjure. An absolutely beautiful read." — Amazon Reviewer Heather G.
"The fantasy element of this book should capture a child's emotion, as will the black and white drawings, but it paves the way for more than entertainment; it can raise questions for conversations about other people's life paths, living with depression and anxiety, and more sensitive and open to others." — Amazon Reviewer E. Lucas
"I would recommend 'The Sorrow of a Crescent Moon' to parents of young children (ages eight and over) and teens as a stepping-stone to discussing the hard-hitting issues in life. This book opens up the dialogue to discuss depression, personal fears, and regrets and how the daily choices we make affect not only us personally but also those around us." — Amazon Reviewer Writer823
"There are few children's books out there that provide as many lessons and looks at real life situations as this one does…Very well written, great illustrations, and superbly executed." — Amazon Reviewer TrishFLReader
---

Print Version




Kindle Version



IndieBound

Shop Indie Bookstores