I have been reading a lot of graphic novels and comics lately. A lot. A whole lot. I realize that I have arrived a little late to the Comixology party, but when I discovered that their app is one of the greatest apps ever created in that it gives us something of a cinematic experience from a comic, I was hooked. Then, I began shopping around and found amazing bargains on both Google Play Books and on Amazon (who, incidentally, now owns Comixology, but the Kindle panel zoom feature just does not compare). I took my obsession a little further by buying a larger tablet to make my reading a little easier. Finally, the best (or possibly the worst) thing happened and I discovered Marvel Unlimited which provides 15,000 comics in the Marvel Universe for a monthly or annual fee. I have a problem, and I am aware of it.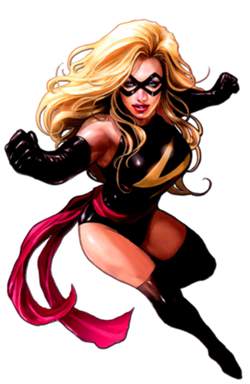 When you have so many comics and graphic novel collections available, where to begin? I began researching the most critically acclaimed issues and series in recent years and Ms. Marvel Vol. 1 by G. Willow Wilson appears on many a list. While I have been away from the world of comics for years, even I knew that Ms. Marvel has traditionally been Carol Danvers, a blond test pilot who wore a superhero outfit that could have doubled as a swimsuit. Regardless of the ongoing commentary about her outfit over the years, she has received some of the best writing and has played a part in a number of the most powerful storylines in the Marvel Universe; therefore the character of Ms. Marvel has always been something of comic book royalty. Since I last read these comics, Carol Danvers had been encouraged to adopt the name of her mentor to become Captain Marvel thereby leaving her Ms. Marvel name available. In comics, a name is something like an Internet domain – a vacant one does not remain available for long.
Right on the cover of Ms. Marvel Vol. 1, which collects issues 1-5 of the comic, is a one-liner from ComicsAlliance.com that states, "This may be the most important comic published in 2014″ (full review here). Amazon reviews had given this volume a 4.8 out of 5. How could I resist diving in?
The new Ms. Marvel is Kamala Khan, a 16-year-old Muslim-American of Pakistani descent. She writes Avengers fan fiction for fun and, like many teenagers, does not feel understood by her parents who she feels are focused on old-world traditions when she wants to embrace the values of personal independence and of building friendships (if I had to be a teenager again, I would find a tall cliff…). This non-spoilery review will now skip over some stuff and will just say she gets to become Ms. Marvel, complete with the blond hair and the swimsuit costume which conflicts with the lessons of her upbringing. Eventually, she creates her own costume and superhero identity, but the Ms. Marvel moniker sticks.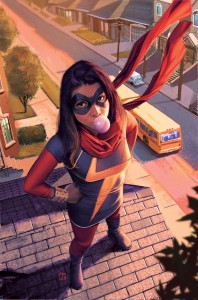 Since reading this collection, I have read so many other origin stories from Marvel, DC, Dark Horse, Image, IDW, and even some independents. Yet, this current version of Ms. Marvel stays with you because it reads like a classic fairy tale which, of course, appeals to this children's book author. A young woman longs to be something more than she is and one day, a day different from any other, she is given the opportunity. Everything about this new series is beautiful including the storytelling, the extraordinary artwork, and the moral. To be completely, completely honest, her powers are not terribly interesting to me and I found that I am likely not the target audience, but I will continue reading on since a foundation has been laid for what will likely be moving storylines to keep it in line with the tradition of the Ms. Marvel character. Marvel Comics has taken a great risk, but they have chosen to create yet another vehicle for social change. My sincere hope is that this comic, along with other forms of entertainment, will assist all of us with the acceptance and understanding of our fellow Americans. Well done.