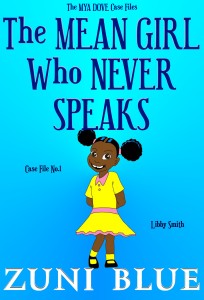 The Mean Girl Who Never Speaks (The Mya Dove Case Files Book 1) by Zuni Blue (a.k.a. Zia Black, a.k.a. Zhané White, a.k.a. Zada Green) is the first case of Detective Inspector Mya Dove, a clever six year-old who takes on mysteries in exchange for snacks. The case involves Libby Smith, a new girl who has been at the school for two weeks but does not yet have any friends. Her behavior, which other students find to be unusual, causes others to question whether or not she is mean so Mya is hired to investigate.
Quite simply, Blue's story should be required reading for children 6 through 8, and I genuinely hope that teachers would consider adding this to their curricula. The message of the book is an important one, and Blue weaves the tale skillfully. Though it is intended for children, the structure of the story as a noir-ish mystery added to the entertainment value and reminded me of the great Encyclopedia Brown books. The author ensures that the reader sees this case through the eyes of the young detective, and we follow along with her on her journey to a place where the evidence is not making sense, just as it likely would not for someone that age. The resolution is satisfying and offers wonderful lessons for young readers.
Well done, Ms. Blue, or whoever you are!